Meet Ben Chan, DMD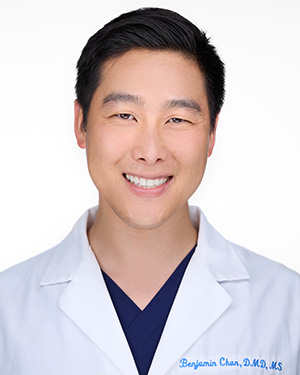 Dr. Ben grew up in Lincoln, Rhode Island, and is a graduate of The Wheeler School in Providence. He matriculated to Bowdoin College, where he majored in Biology and minored in Music, earning a Bachelor of Arts degree. After Bowdoin, Dr. Ben trained at Tufts University of Dental Medicine. He first earned his Doctorate of Dental Medicine, and then he completed a three-year residency in orthodontics and dentofacial orthopedics, receiving a Master of Science degree and a certificate in orthodontics.
Education and Training
Board-Certified by the American Board of Orthodontics
Tufts University School of Dental Medicine – Orthodontics and Dentofacial Orthopedics Residency
Tufts University School of Dental Medicine – Doctor of Dental Medicine
Bowdoin College – Bachelor of Arts in Biology and Music
Dr. Ben is a member of the American Association of Orthodontics, the Northeast Society of Orthodontists, the Rhode Island Dental Association, the American Dental Association, Robert R. Andrews Research Honor Society, and New England Orthodontic Study Club. Dr. Ben is proud to be a Diplomate of the American Board of Orthodontics. He also had the esteemed privilege of displaying his clinical board cases at the national American Association of Orthodontics convention and the regional Northeast Society of Orthodontics meeting. Dr. Ben now has the daily pleasure of working side-by-side with his father, Dr. William Chan, and has come to appreciate their relationship from this new perspective.
In addition to working with Dr. Denise Goodman, Dr. Nick Lavoie, and his father at Cumberland Dental Specialists, Dr. Ben is the course director for Early Treatment in Orthodontics for both pediatric and orthodontic residents and a clinical faculty member at Tufts University School of Dental Medicine. He mentors the residents by leading seminars, facilitating curriculum development, and guiding patient treatment. He also serves as a liaison to the Tufts Pediatric Dentistry Department. When Dr. Ben is not working with patients and residents, he collaborates in dental pulp stem cell research at Tufts. He is currently creating brain cells from dental pulp stem cells and is using these brain cells to develop a model for autistic spectrum disorder to better diagnose and treat ASD.
Memberships
Diplomate of the American Board of Orthodontics
American Association of Orthodontics
Northeast Society of Orthodontists
Rhode Island Dental Association
American Dental Association
Robert R. Andrews Research Honor Society
New England Orthodontic Study Club
Outside of these professional endeavors, Dr. Ben enjoys playing tennis competitively. He and his teammates reached the United States Tennis Association (USTA) National Tournament in 2012 and 2013. Dr. Ben also loves to cook, eat his concoctions, read books, and watch movies in his free time.
The Importance of Board Certification in Orthodontics
While there is no board certification available for dentists, there is for orthodontists. Orthodontics is a specialty field that demands additional training beyond the standard dental degree. While orthodontists are not required to become board certified, patients can benefit from choosing one who is. Board certification indicates that an orthodontist has completed an accredited orthodontics residency and finished the necessary training to perform procedures safely using the most advanced techniques available. The American Board of Orthodontics has exacting standards for qualification, underscoring the importance of ethics and patient-focused care. Orthodontists must complete continuing education courses every year to maintain their certification. Choosing a board-certified orthodontist like Dr. Ben Chan can provide assurance that you are receiving the best treatment possible.