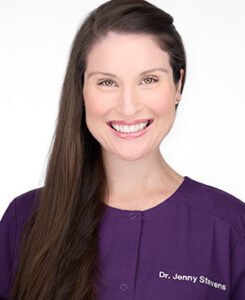 Dr. Jennifer Stevens, or "Dr. Jenny" as she is known to our patients, is a native of Miami, Florida. Her father is an oral surgeon, so she became interested in a career in dentistry at a very young age. Dr. Jenny loves working with children and has specialty training in pediatric dentistry. She is experienced with a full range of treatments and procedures for children across the age spectrum, from infancy through adolescence, as well as for our patients who require special needs pediatric dentistry. 
Dr. Jenny places a strong emphasis on walking children through their appointments step-by-step and tailoring her approach to the unique needs of each child. Her goal is to make children feel at ease throughout the treatment process, and she truly believes that visiting the dentist should be fun—which is why she strives to make each patient feel as comfortable as possible in a safe and fun environment. 
Education and Training 
Dr. Jenny's extensive training and educational background include: 
Dental College of Georgia at Augusta University – Pediatric Residency Program, 2018 – Chief Resident 
Dental College of Georgia at Augusta University – Doctor of Dental Medicine, 2016
University of Virginia, Bachelor of Arts in Anthropology, 2010
Dr. Jenny has also trained other pediatric residents and pre-doctoral students while serving as an Adjunct Faculty member at the Dental College of Georgia at Augusta University. Additionally, Dr. Jenny is committed to the pursuit of continuing dental education throughout her career, which allows her to remain abreast of the latest pediatric dental treatments and techniques. 
Memberships and Accreditation 
Dr. Jenny holds membership in some of the most respected dental organizations in the world, including: 
American Board of Pediatric Dentistry – Diplomate – Board-Certified Pediatric Dentist 
American Academy of Pediatric Dentistry 
American Dental Association 
Georgia Dental Association 
When Dr. Jenny is not treating our wonderful patients here at Cumberland Dental Specialists, she enjoys hanging out with her husband Lee and their dog Winston (a teacup yorkie). She is also an avid tennis player, and loves traveling and trying out new restaurants. 
For more information on our dentists and the treatments available at our practice, please contact us today.